Discover more from Love Off Grid
A normalish, skilled, middle-aged couple documenting their life off grid. Why? No idea. Maybe for posterity, maybe for inspiration, or maybe just as a warning to others.
Bare shelves.
Finally, the shortages some of us have been warning about since 2020 are starting to show up in stores. People seem surprised that eggs are scarce although more than 40 million egg-laying chickens have been killed in the US as a result of the current outbreak of avian flu. This according to USDA data.
Note, I didn't say the chickens died of avian flu - I said that they had been culled as a result of a policy that requires entire flocks be destroyed if just one chicken tests positive for avian flu.
Many cases of avian flu are being "identified" using PCR. Kary Mullis1, Nobel Prize recipient and inventor of the PCR, had this to say about diagnosing illness based on PCR.
In short, using PCR, you can find whatever you want to find.
I hope that you're connecting the dots between humans and these poor chickens. It's something to think about, if you're the kind of person who thinks - which is rare these days.
If you are, you might be interested to know how to get and keep eggs long-term. And butter, while we're at it. It's amazing how many things you can make from scratch with eggs, butter, and flour.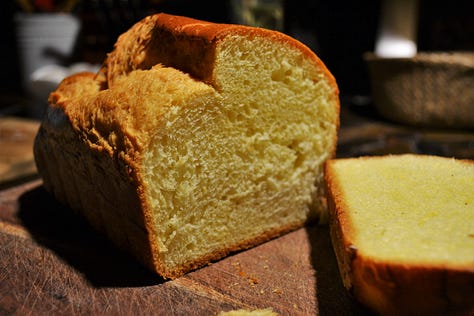 Eggs
The best place to get eggs is from your own chickens. Temps have fallen below -20F already this winter, but we're still getting one to three eggs per day. Before winter, our chickens were laying 8-10 eggs per day. Since I rarely use that many eggs in one day, I learned to preserve them using the "waterglass method".
Waterglassing requires only a few items: a large jar or food-safe bucket with a lid, water, food-grade calcium hydroxide (AKA: slaking lime), and fresh eggs. Fresh eggs have a natural cuticle called "bloom" which seals the shell's pores, preventing bacteria from getting inside the shell. Eggs with their bloom intact can be stored without refrigeration for about 2 weeks. With waterglassing, eggs can be preserved for up to 2 years!
Important to know:

You can't waterglass or preserve store-bought eggs. Their bloom is long gone. Also, waterglassing is not the same as pickling! Waterglassed eggs can be used right out of the jar for baking, scrambling, anything - just like a fresh egg.
So, you have no chickens, now what? I guarantee someone in your area has chickens, if you're willing to go rural. Drive around in the country and look for a sign like this:
These days, you can probably even find someone selling eggs through Facechat or Twitface… We're not on social media so, however you find them - do. Make sure the eggs still have their bloom in tact (ask). If not, make arrangements with the farmer to put some aside for your next visit.
Waterglass Method:
Clean your container and then combine enough water and lime to fill it 3/4 full using this ratio: 1 ounce slaked lime to 1 quart water. Slaked lime is very fine and powdery, so be prepared.
Dissolve the lime as best you can by mixing with a long wooden or plastic spoon. If you're using warm water, wait for it to cool before adding the eggs. The lime will settle to the bottom of the container - that's natural. Don't worry. It's working.
Some say to place your eggs in the container pointed-side down but if you've ever tried this, you know it's a fool's errand. Eggs have a mind of their own. Just put them in gently and layer them.
Now close the lid and store the bucket in a cool, dry place.
That's it.
Unlike canning, where you can only open the jar once, Waterglassing lets you dig into the bucket anytime and get only what you need.
Wash the lime off your eggs before using so you don't get a weird lime taste in whatever you're making.
The bucket above is full of eggs I preserved in the summer. The water has formed a very thin crust, like crème brûlée. I pulled an egg from the bottom of the bucket to show you. It's probably about 6 months old: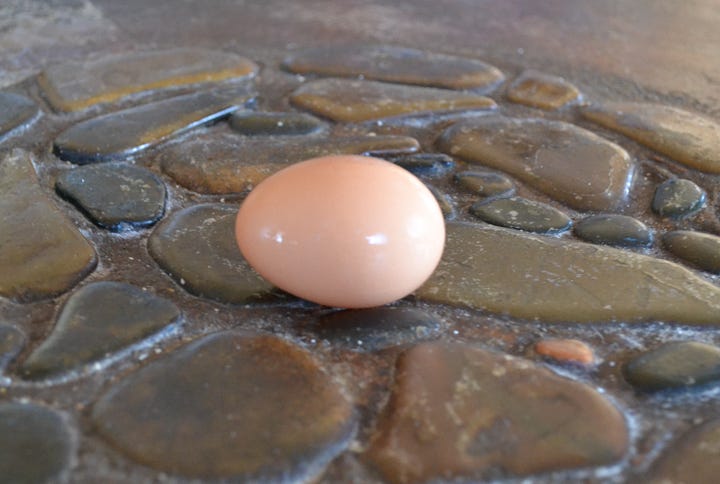 Good as new!
Here's a secret: I don't even like eggs. The thought of eating a deviled egg or boiled egg makes me want to gag. I do, however, like all the things I can make using eggs and I realize that eggs are in thousands of mass produced foods, as well. If there's an egg shortage, they'll be a bread shortage to follow, and a pasta shortage and on and on….
Make friends with a local egg producer or, better yet, get some chickens of your own. If you want to learn more about how to do that, read Pickin' Up Chicks.
Now, onto butter…
Butter
The secret to a long life may be less butter, but the secret to a good life is more butter. For now, I depend on the store for butter and that scares me.
I've been researching methods to make cheese and butter, and weighing our options for cream. We don't have a cow (yet) or goats (yet) or sheep (yet) but one of them is bound to join the family soon - maybe spring? Anyone with experience care to share an opinion?
For now, I stock up on butter but my freezer-space is limited. I had to find a way to preserve butter without refrigeration. The solution is Clarified butter. Clarified butter is very similar to Ghee, with some minor differences. With both, the dairy is removed thereby prolonging storage.
Clarifying Butter Method
Melt your butter in a heavy-bottomed saucepan over low heat without stirring until it separates into three layers (foam, clear fat, and milk solids/water). The clear fat layer is what you're after.
Once melted, take the pan off the heat and let it stand for about 5 minutes. Skim off and discard the foam that has risen to the top.
Using a ladle, skim the fat (the clear yellow liquid) into another container, making sure not to let any of the solids or water get into the ladle.
Pour the clarified butter through a strainer or cheesecloth into a jar. As it sits, you might notice a bit of foam floating to the top. Use a spoon to remove it.
The clarified butter will thicken and turn light yellow as it cools.
Discard the milk solids at the bottom of the pan, or you can brown them and use them as "brown butter" in recipes that call especially for it.
Clarified butter can be stored in a cool, dry place without refrigeration for several months. I've heard 3-4 months, but I'm hoping it's longer. We'll see. At least until we get a cow, or a goat, or sheep….
---
Thanks for reading Love Off Grid, a reader-supported publication. If you enjoy these updates, please think about supporting my work using the link below. Thanks!
1
From Dr. Mullis Biography: Dr. Mullis received a Nobel Prize in chemistry in 1993, for his invention of the polymerase chain reaction (PCR). The process, which Dr. Mullis conceptualized in 1983, is hailed as one of the monumental scientific techniques of the twentieth century. A method of amplifying DNA, PCR multiplies a single, microscopic strand of the genetic material billions of times within hours. The process has multiple applications in medicine, genetics, biotechnology, and forensics. PCR, because of its ability to extract DNA from fossils, is in reality the basis of a new scientific discipline, paleobiology.
Dr. Mullis has authored several major patents. His patented inventions include the PCR technology and UV-sensitive plastic that changes color in response to light. His most recent patent application covers a revolutionary approach to instantly mobilize the immune system to neutralize invading pathogens and toxins, leading to the formation of his latest venture, Altermune Technologies, of which he is the Chief Scientific Advisor.
Dr. Mullis was awarded the Japan Prize in 1993 for the PCR invention. It is one of international science's most prestigious awards.