Discover more from Love Off Grid
A normalish, skilled, middle-aged couple documenting their life off grid. Why? No idea. Maybe for posterity, maybe for inspiration, or maybe just as a warning to others.
It's late October and we already have 9" of snow on the ground. As we watch it slowly compact into ice, the weather forecast is predicting another layer later this week.
I guess fall is over for us, but it sure was pretty while it lasted.
The mild and glorious seasons are always too short.
Garden
This winter will be our fourth here and, from experience, we've learned to take advantage of the mild days while they last. We harvested the rest of the garden a few weeks ago by gathering the remaining pumpkins and raspberries and the brussels sprouts from the greenhouses. We left the dried corn stalks and sunflowers as long as we could for the birds to devour and then shredded them into the garden as mulch.
We don't always till the garden in fall, but we decided to turn all the oversized zucchini plants and squash vines into the ground this year. Adding compost from the bin in the spring should help keep our soil rich and healthy.
Firewood
We usually have our firewood delivered by a local guy, as most of the trees on our property are quaking aspens (they don't make the best firewood). He typically delivers in mid-summer, but it took him longer this year because he couldn't get parts to repair his truck. The details of his truck aren't important for this story, but the delay was another instance of us being affected by supply chain issues beyond our control.
Having to wait on someone else for a thing so vital really made us consider all the obstacles that could affect our firewood supply. Next year, we plan to get a permit and cut our own wood from the forest.
And because you can never have too much firewood, John added to our collection when a neighbor (who has a lot of hardwood trees) asked John if he'd be interested in taking some of his trees down. This neighbor also has an excavator, which made cutting the wood a bit easier than normal.
And more fun, too...
That said, we've been playing our own version of Tetris for weeks as we stack cords and cords of firewood, some would say, rather meticulously.
I think we're up to seven cords now, and a lot of it still isn't split yet.
As you can see, we were mostly ready for the snow, having winterized nearly everything already. As I write this, it's sunny and 31F degrees. John's outside collecting the last of the yard items we missed (and I'm baking him a banana rum cake!).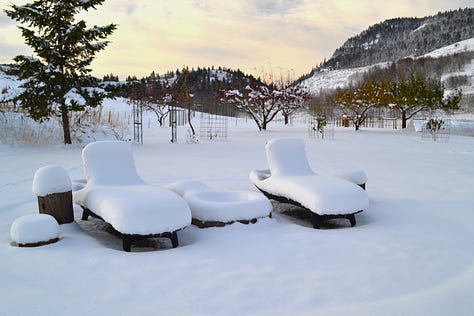 Solar System
Because of the snow, we learned an important lesson regarding our solar panels. In summer 2022, we added three more panels to our array which topped out the load our charge controller could handle. More panels mean more intake and when the panels feed in too much load via sunlight, their circuit breaker will trip to protect the system.
A couple days ago, the breaker tripped unexpectedly. We think it's because we hadn't factored in the increased amount of light reflection created by the snow. The snow reflects the sunlight off the ground, thereby increasing the light load which, in turn, can overload the charge controller.
To keep the breaker from tripping again, our fix is to deactivate the three new panels (via the flip of a switch) and run only six panels during very bright, sunny days when the ground around them is covered in snow. So far, it's working.
On cloudy days or when the snow eventually melts, we'll turn the three panels back on and run all nine again, as usual. That's the plan…
Using Space Wisely
In other preps, John has shifted from summer to winter equipment in the barn. Always the meticulous stacker, he makes very good use of space (and his tractor forklifts).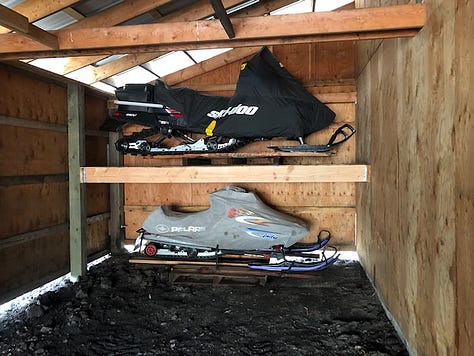 While John's off stacking things this winter, I'll be sewing.
Now that all of our essential projects are done (water, heat, power, food), we've been able to focus on the fun stuff. We finished the glass studio we started last month in the barn loft and also did some redesigning in my sewing room. The two rooms used to be one in the same, but fabric and glass don't always mix well.
Last week, John made me a sewing bench so I can finally sew sitting down, and we moved all the glass and mosaic equipment to the barn loft.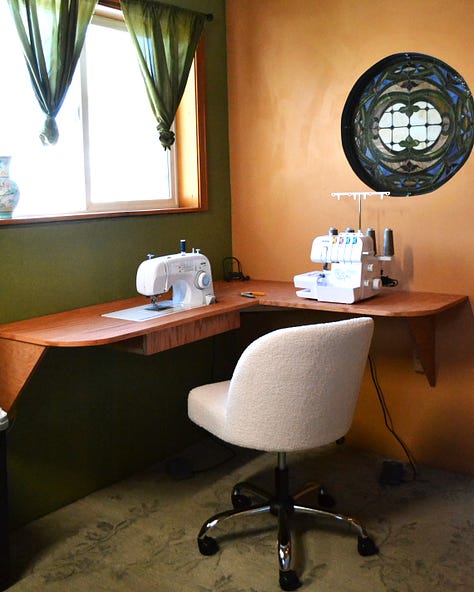 We redesigned the barn loft (which we'd been using as a catch-all) into a glass studio with an enclosed storage area. Because it's in the barn, however, it stays pretty cold for half the year. There's a small woodstove downstairs in John's shop to take the edge off but I've worked with glass in the cold before and it's no fun.
Your hands stay wet a lot while grinding the edges off glass and then they go numb. Not to mention, glass doesn't like to be cold either and complains by breaking all wrong.
So, excited as I am, I'll think I'll stick to using my sewing room for now, at least until spring.
And while I'm waiting to use my glass studio, I'll make clothes.
Last week, John and I crossed into Canada so I could stock up on fabric. It was our first time crossing the border since the pre-Covid, pre-lockdown, pre-restriction era and it was definitely worth it. They've got some amazing fabric shops in Canada.
I got some beautiful boucle to make a winter coat and some very floral cotton to make new pajamas.
If you don't immediately think of fabric as a winter prep, try thinking of it as a sanity saver. Being surrounded by snow for six months, hobbies quickly move up on the list of priorities.
After all, you can only do so many puzzles.
Lessons Learned from Last Winter
After last year's enormous and sudden snowfall, we learned that having vents and snow dams on the roof doesn't work here. All the vents, dams and gutters got ripped off by the snow last year. Not only were they a complete failure, they also caused several small rips in the metal roofing when they got pulled out.
To fix these issues, John reinstalled the plumbing vents horizontally along the outside of the house, below the gutters. We also moved the gutters a bit lower along the roofline. Our hope is that any melting snow or ice will slide past them…
Fingers crossed!
Also, our satellite dish also got wiped out last year by ice sliding off the roof.
To prevent this happening again, we had it relocated onto the SE side of the barn where it will be out of harm's way.
I have to admit, I hate the look of these God-awful monstrosities that are satellite dishes. Not having to look at them is almost worth getting rid of internet altogether, but then I wouldn't be talking to you, so…
Food
Regarding food, our freezer and pantries are stocked and ready to dig in for the season. Thanks to having spent the past several years preserving foods (including meats), we have been fairly insulated from the rising prices at the grocery store. If you haven't started preserving foods yet, it's time - past time - to get busy.
You may recall that we were sheep-sitting this summer for a friend. The arrangement worked for both of us, giving us an opportunity to experience keeping sheep without the commitment and freeing him from having to buy feed all summer. In exchange, he also gave us a lamb for the freezer this fall, which amounted to about 35lbs of meat.
While the experience went well, I don't think keeping 30+ sheep here for ourselves is part of our long-term plan. We are considering a few other animals as an alternative, though, but more on that later.
That about wraps up our autumn adventures as we head full-speed into winter. Saying goodbye to crisp mornings spent on the porch wrapped in a blanket sipping coffee feels bittersweet, but I realize it's just a trade off for other good times: warm fires, cozy comforters, and slow days spent enjoying the fruits of all our summer labor.
Not to mention this….