Discover more from Love Off Grid
A normalish, skilled, middle-aged couple documenting their life off grid. Why? No idea. Maybe for posterity, maybe for inspiration, or maybe just as a warning to others.
When we moved to the farm in fall of 2020, it had been abandoned for a couple years. The previous owners bought a new place in town. They still visited the property from time to time to check on things, but no one had done any work on the place for a long time.
The previous owners built the house and barn themselves in the 1990's, bit by bit, as they had the means. I'm still amazed at how sturdy this place is, considering it was built by a guy in his early 30's with limited construction experience. He had natural talent, though, especially with carpentry. They financed 40 acres of land directly through a land company and lived in a make-shift shack while they built the cellar, foundation and first room.
Over twenty years they raised three children here - shuffling them back and forth to school and other activities, using snowmobiles in winter. The kids' growth is charted in deep pencil marks on a wall in the pantry. Even though they're not my children, that wall is sacrosanct, never to be painted.
They planted an orchard, from which we now benefit, and they started an organic garlic farm. They also wrote (and published) several children's books over the years. All in all, they did very well for themselves. So well, in fact, that they moved their garlic operation to a lower elevation with unlimited water to keep up with their business' demands.
Theirs is a beautiful success story of a young couple who started out with hardly two nickels to rub together. With a lot of determination and elbow grease, they created a happy life for their growing family.
In 2020, we bought their farm and continued making improvements. John and I are older than they were when they built this house. Since we both started working when we were 15 years old, we've had time to build our resources and experience.
Our years spent working for other people essentially paid for the house, and their years of hard work built the house we bought. It was a good trade that worked for all of us.
We still keep in touch with them and occasionally share pictures of our improvements to the house. It makes them feel good to know the house is being so well loved.
Last night we got sucked into YouTube drama. We watched a series of controversial videos about what it means to be off grid - "Off Grid Living is a Lie" and some of the associated responses.
Wow. People really get their panties in a wad over the littlest thing now.
Here's my 2-cents, for what it's worth:
If you're not sure whether you're living off grid or not, you're probably not off grid. When you're off grid, you'll know it. Creating your own microsystem that provides power, water, etc. for which you are 100% responsible is not the same as being reliant on and tied to outside sources.

As shown in the example above, it is possible to buy land even when you're young and/or broke. It will be land that no one else wants and nothing will be easy. It will likely have no water, no access to power, and no septic system. That's what makes it affordable! Your mission - should you choose to accept it - is to solve these issues with creativity, ingenuity and lots of hard work. Some folks buy land, set up a trailer or tent with a bucket and stop there. These are usually the same people whining about things they don't have - or devaluating the things they can't afford. You'll know them by their "I can't" and how they answer every suggestion with, "Yeah, but…" and "If someone else would just…". These people are their own worst enemy. Walk away.
In life, off grid or on, you really do have to work hard for everything worth having.
If you really want something, you'll make a plan; if you don't, you'll make excuses.
Buying an existing off grid home isn't a turn-key experience. To make things run, you really do need a certain level of knowledge (or the ability and willingness to learn) to be self-sufficient. In our case, we bought the house and land, but we ended up installing everything else (including rewiring and replumbing a large part of what existed). The system requires regular monitoring and maintenance, like running your own utility company.

Most importantly, everyone's reason for choosing to live off grid is different. We each have different goals. The folks who built this house used sweat equity to turn a 100% profit (nothing wrong with that!). Other people want to "save the planet" and live more simply; others are highly anti-social. Some of us don't like the direction our society is headed and are living our own version of Atlas Shrugged! There are many different reasons. Instead of arguing among ourselves, I believe we should focus on the one thing we all seem to have in common: A deep love of freedom and the desire to live in alignment with our self-determined values.
I'd like to welcome you to our home now, and share some before and after images of some of our projects. The projects I'm sharing today are strictly cosmetic. You can find all the nuts-and-bolts well and solar/wind projects on other posts, but this one is all about beauty.
The Kitchen
When we first saw this house in 2020, I was sold when I saw the kitchen. It's huge! It was painted orange from floor to ceiling, including the cabinets, but it had a gigantic cement island, vast windows that overlook the orchard, and great natural light.
The lighting and the orange glow put me in mind of a rustic Tuscan villa. I imagined honing my pasta-making skills, crushing fresh garden tomatoes with my bare hands and speaking with an Italian accent…
But before all that, the kitchen needed some serious work. We ripped the orange cabinets out only to find massive mice nests, spider nests and assorted ick.
That's me below, on my birthday, tenaciously scrubbing the nasties out.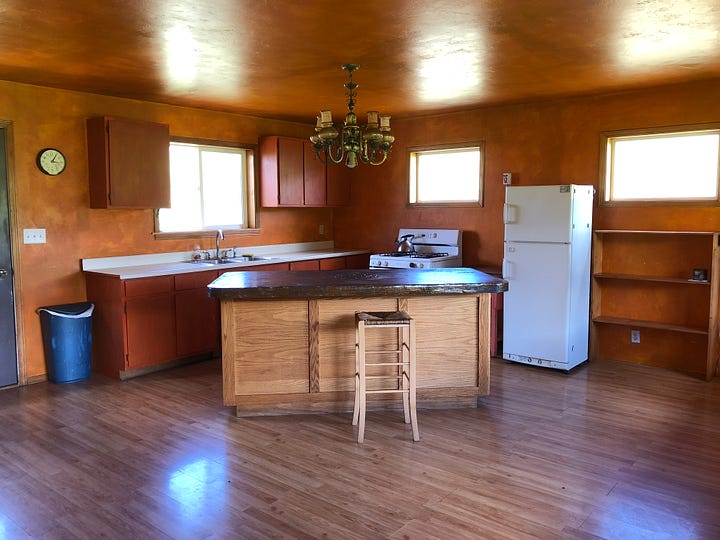 Behind the walls, there were wiring issues and, we later discovered, some plumbing issues as well. Thanks to our friend Willie for helping us out! His excavator saved John a serious backache.
Aside from repairing an urgent, leaking bathroom pipe, the kitchen was the first room we tackled after moving in. The "orange glow" of the walls quickly lost its appeal and got repainted Golden Aura. After we tore out the orange cabinets, we discovered we needed more storage so John built shelving and cabinets along an entire wall.
And, since washing dishes via headlamp wasn't a long-term solution, we added more lighting, too. We also installed a gas stove, a propane freezer, a new countertop and sink… Yep, everything got replaced - except the island and the quirky old light above it, which I kind of love.
This, to me, is now an inspiring room! My inner Nonna (that's Italian for Grandmother) bursts forth as I knead with confidence, flour dust flying.
I think my kitchen is finally finished.
This room is important. This is where John and I have breakfast together every morning. We plan our day here. It's where we draft our to-do lists and draw diagrams of future projects. It's where we enjoy special dinners and linger over wine and dessert. It's where we share stories with friends as we hang out around the massive island.
I believe creating beauty in our personal spaces can inspire us to feel joy and gratitude. The more we consciously notice the beauty around us, the more appreciation we experience for the things we have.
The Living Room
Our main living area is where we have coffee, relax with the dogs, and read. It's an odd shape, honestly - one of those rooms that's basically a pathway to somewhere else - so there's no good way to arrange furniture. Believe me, I've tried many configurations! Here's the room before, with its many angles and doorways… And, yes, it was also orange.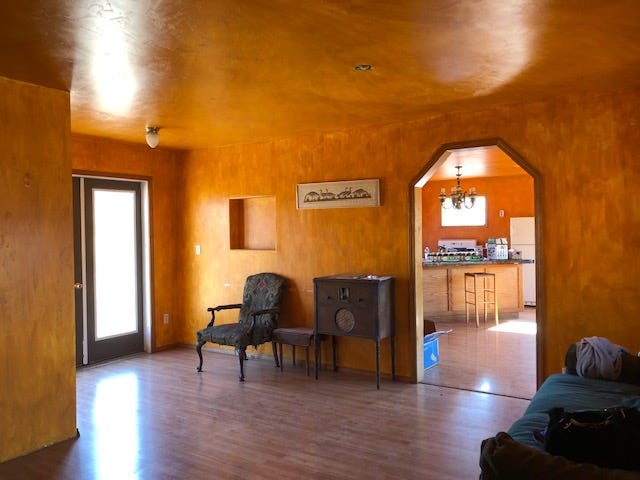 This is the room that the previous owners built first, and then everything else branched off of this room. So, while I understand and respect their process, it doesn't make furnishing it any easier.
After a couple years of experimenting, I've settled on (at least for now) four chairs in a circular configuration - kind of like a book club or group-therapy session. The small alcove by the French doors serves as a reading nook.
Our bedroom and my studio are also on this floor, as is the bathroom we renovated.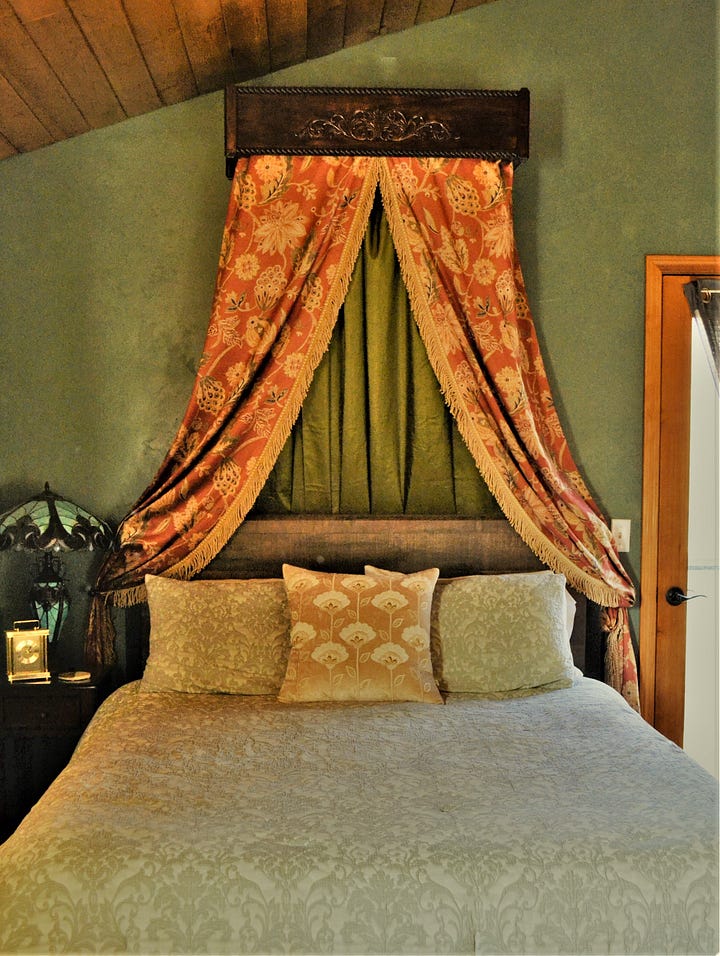 The "Pretty" Bathroom
We renovated the old bathroom completely which included tearing out a wall to enlarge the space, totally replumbing it (the pipes went nowhere), and replacing everything.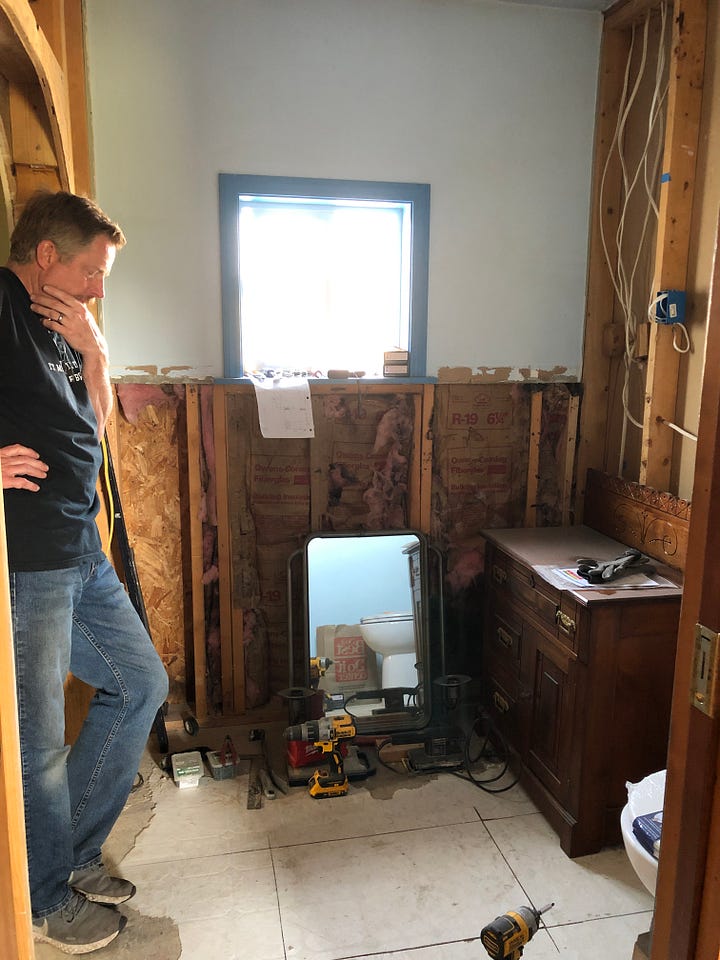 While I'm happy to share with him, John insists that I have this space all to myself. I won't argue with him.
The Den
The den is downstairs and that's where the woodstove is located. The heat from the woodstove comes right up the stairway, keeping the whole house toasty.
Because the den is underground, it stays a consistent 62F degrees summer and winter, even with no fire.
We cozied it up a bit, but we still have work to do. At the end of a long day pulling weeds or stacking firewood, its nice to have a comfy spot to just chill, watch a movie, and do nothing.
We hope you enjoyed this brief tour of our home. It's nothing fancy, but it's comfortable and we're happy here. Most of the work we've done goes unseen, behind the walls or underground. That's the stuff that makes the lights come on and gives us hot, running water!
We've done a lot of exterior improvements, too, like painting the exterior, adding a trellis, building a porch and a fire pit. Those are on other posts. Besides, it's hard to show you anything outdoors right now since we're still under at least 2ft of snow.
"Uppermost in our minds was our feeling of intense disgust with the spiritual disorder of modern life —its destruction of human integrity and its lack of purpose; and, with this, we had a decided sense of impending fatality. We wanted a life which through its own conditions and purposefulness would engender… order, leisure, character, stability, and that would also, in a larger sense, be aesthetically enjoyable."
Donald Davidson, The Southern Agrarians, 1935
Sure, some off grid folks will always believe that if you're not suffering sufficiently you're just not legit, but I don't think taking cold showers by lamp-light is going to earn us any virtue points with God.
My response to those folks would probably be to invite them over for dinner. I'd hand them a steaming plate of deer backstrap, garlic potatoes and fresh brioche, fill their wine glass and try to persuade them…
You can be an effective survivalist and still live comfortably.