Discover more from Love Off Grid
A normalish, skilled, middle-aged couple documenting their life off grid. Why? No idea. Maybe for posterity, maybe for inspiration, or maybe just as a warning to others.
---
This piece was originally published on my website in February 2021. I'm reposting it to Substack (with a few updates). If you're looking to buy off grid property, this info should be helpful to you.
Good luck!
---
Mission Possible
We began looking at properties in the spring of 2020. We used the usual online resources like Zillow and Trulia as well as some sites that dealt with off-grid properties specifically. The off-grid specific sites seemed overpriced and their selection was sparse, however.
We also thought about modifying our existing home by adding supplemental solar power and digging a well. Ultimately, we decided against doing that. The code restrictions in our city made it difficult - not to mention, like most people, we didn't actually own the home we were in - the bank did. Getting out from under our mortgage was a top priority for us.
Because we were both still working, we limited our search to within a 10-hour drive of our home. That meant that if and when we found a property, we could spend weekends working on it while we continued going to our regular jobs during the week.
At least that was the plan before everything changed… back to that in a bit.
Our search criteria looked like this: "home/structure with well and septic on at least 5 acres of land". That seemed reasonable.
With a small budget and a wide skillset, we went looking for "potential to build on".
Our search took us to some very remote areas.
At the time, I drove a Mini Paceman. The Paceman is a 2-door, 4 wheel-drive little mountain goat of a Mini and it got great gas mileage. Since we were putting in a lot of miles looking at properties, we drove my car instead of my husband's truck.
Every realtor who met us took one look at my little car, back at us, then back at the car and, with concern, asked, "You know this property is off-grid, right?". They had no desire to spend their Saturday afternoon towing some ignorant city dweller's Mini out of a backwoods mudhole.
Meanwhile, my little Mini kept pace with their 4X4 trucks just fine, prompting more than one realtor to say in amazement, "I've got to get me one of those!"
The Search is On
An unexpected benefit of our search was how much we got to learn about our state while we explored all the gorgeous back-wood areas. The vast lakes and rivers; the old narrow bridges; aspen and tamarack forests; tiny coffee huts and vegetable stands; oddly delicious roadside chicken fingers... while the rest of the world sat home quarantined, we were out discovering these hidden gems.
Sometimes just looking at properties was an exercise in endurance and bravery. We had a small budget so most of the places we looked at were... well, kind of scary.
Think pack rats, bees and snakes scary.
Twice in one weekend we had guns pulled on us because, like I said, we were out looking in very remote areas (which is reason enough, right?). Luckily, we're not afraid of guns nor are we afraid of people with guns.
John and I look pretty harmless (middle-aged couple driving a Mini, remember?) so these incidents didn't escalate into anything. Both times we just kind of ignored the gun-waving and folks went on to help us with directions.
Neighborhood watch takes many forms.
Reality Check
I want to say something about buying a house or property sight unseen. We obviously didn't do this, but we know people who have. Apparently, properties post frequently online and people jump on them because the price is low.
Well, it's low for a reason.
Don't think you've magically come across gold when you see one of these "too good to be true" deals. I'm not saying there are never great deals out there, but if you found one, you'd be the exception. If you're too far away to get in your car and go see a property for yourself, send someone you know to visit the site and take some realistic pictures, if possible.
Along that same line, the written descriptions of most off-grid properties are, let's just say, generous.
We looked at houses that were described as having "a full off grid set up". According to the seller, they were "self-sufficient" with a well, solar system, bathroom, etc.
In reality, the well pump didn't work (so was there even water? who could tell?), the solar system consisted of one obsolete panel and the "bathroom" was a composting toilet - and not a good one. If you're not familiar with a composting toilet, it's basically an indoor outhouse. I'm sure there are better ways to do a composting toilet, but this wasn't that.
It's always best to investigate a seller's claims in person. Do your due diligence.
Another property we visited had a decent house, but the land was a boneyard - literally. Coming across a few bones is normal in the wild - coyotes are everywhere and they can take down some large prey. Yet, the more we explored this land the more bones we found, and I'm talking large piles of large bones! It got creepy. Wolves, maybe? Grizzlies?
We didn't hang around to be next.
One cabin we saw was built by the seller in the 1980's. He had since moved to Alaska but we spoke with him on the phone. The pictures of the cabin looked amazing - but they were 40 years old.
Still, we had hope.
It was a 1-hour hike from the main road to get to the cabin because the path was so overgrown (he had told us 20 minutes, but it was a good hour). Anyway, as I mentioned, the photos were promising - hand hewn logs, high ceilings and huge windows, not to mention the price was a steal, so we kept walking and hoping.
Finally, after an hour's hike, we arrived at the cabin and climbed up into the doorway (the stairs were gone). On the verge of the threshold, we realized that the cabin was full - I mean full - of pack rats!
Frozen in the doorway, we heard them scurrying everywhere, then they become eerily quiet. When John shined a flashlight into the loft area, hundreds of beady eyes ominously glared back at us. Clearly, this was their house now and they were prepared to defend it.
The hike to the cabin may have taken an hour, but the hike back to our car took half the time.
NEXT!
Persistence
For months, we spent every weekend looking at all the cabins, small farms, and homesteads within our area and price range. There weren't many, but the days driving were long and exhausting.
We'd start the weekend with a list of properties, our state atlas (because there is no GPS in some of these areas), a full tank of gas, and some snacks. Most of our searches were during "lock-down" so finding a bathroom on the road was interesting, at best - never mind stopping for a coffee or lunch.
But we kept our optimism and an adventurous attitude. It was exciting just to dream of what could be.
While it's easy to get caught up in the thrill of a beautiful view or the quiet stillness of land with no neighbors in sight, don't neglect to check for issues that cannot be remedied before you buy a property.
Sometimes people skip the home inspection of an off grid property because they're paying cash and the house is being sold as-is. If you're going to be the one repairing issues with the home anyway, you can do the home inspection yourself. You know your own skill level and what you're able to do yourself vs. what you may need to pay someone else to do. Be realistic.
There are some things not even the handiest person can fix, however, like water availability. There's not much you can do about water if water simply doesn't exist on the property. Sure, you can haul water to the site but that gets old fast; it also takes away from your self-sufficiency. If the property does have a well on site, that's great. But don't neglect to do a well report for both quality and quantity. You'll have to request this specifically since not all well companies do both.
We requested a well report for one property we almost bought. In the report, the lab analyst actually used the word "horrendous" to describe the water. "Never seen iron levels that high," he said.
Dodged that bullet, thank God.
But water was also an issue here in the home we have now. While our water quality is excellent, the quantity wasn't great. We had to dig a new well in 2022 which was an expense we hadn't counted on when we bought the property.
Additionally, having the septic checked before you buy can avoid expensive issues down the road. There might be issues that aren't obvious on the surface, like a cracked septic tank. In WA, sellers must have their septic tank pumped no more than a year before selling a property, but laws vary with each state.
Over several long months of searching we put offers on a few homes and, for one reason or another, they all fell through. One was abruptly taken off the market with no explanation; one had the "horrendous water"; another deluded seller expected us to pay more than she was asking... It was disheartening.
Now, looking back, we see that a larger force was at work looking after our best interests. At the time, though, it sure didn't seem that way.
And then, Poof!
Finally in mid-July we found a beautiful nearly-finished cabin near the top of a mountain with a perfect view. It had a working well and septic, a large industrial generator and a full propane tank piped to the house. Most importantly, it was in our price range!
The house was built on a steep hill, which wasn't ideal for our gardening and farming plans. It also didn't have a shop, but we could adjust.
Excitedly, we began working to finish our new cabin. John took some time off work and repaired the well pump (it needed tweaking) and he designed and built a framework for our solar panels.
Meanwhile, I got busy deep cleaning from all the things that naturally move in when a cabin sits empty for many months in the wild (mice, bats, bees, spiders, etc.).
Since the cabin was still partially unfinished, John and I went to bed every night exhausted from the day but still discussing projects to come: Where would we build the second bathroom? Where would we level the land for a greenhouse? Where would we store the snowmobiles? We were immersed in the excitement of bringing our dreams to fruition.
Until everything came to a screeching halt.
About three days after John installed our solar panels, the cabin we had looked so hard to find burned to the ground. In a matter of hours, it was gone.
We were heartbroken.
Ashes to Ashes
The day of the fire, we had watched several planes flying in front of the house all day. New to the area, we didn't think much of it. Since we didn't have a radio or cell signal there on the mountain, we had no idea what the planes were doing.
Turns out, the planes were Fire and Rescue planes dipping into a nearby lake to get water to douse on nearby fires. Very nearby fires, we would soon learn.
John and I just kept on working on the house - oblivious to all - as the fires grew closer.
As you can see, the front of our cabin was all windows. There were no windows on the back side so, for hours, we never saw the smoke. Later in the afternoon when the wind changed direction we finally saw (and smelled) the smoke.
I realize how oblivious we sound but the sky was clear and blue all day from what we could see…
Until it wasn't.
From the time we saw the smoke to the image below was probably just over an hour. The fire moved lightening fast. It came right over the mountain behind us and devoured our new house.
We evacuated as quickly as we could.
We lost the house completely, as well as everything we had moved into the house. All the work we had done turned to ash.
We weren't the only ones who lost homes, though, and even worse. It was a rough time for so many folks.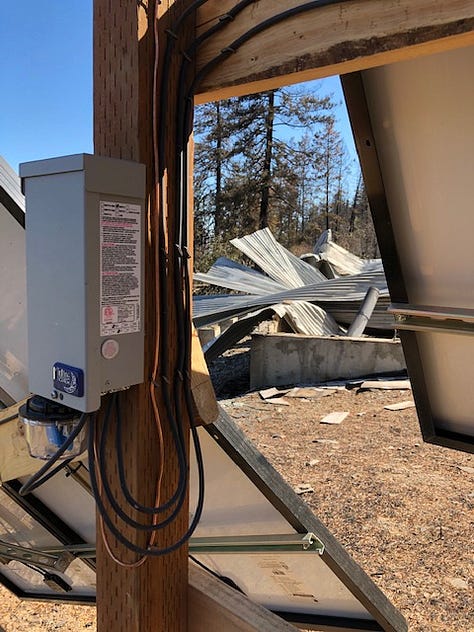 Dust Yourself Off and Start Again
The silver lining is that we had great insurance on that house, which, coincidentally, I had remembered to buy at the last minute. After what occurred, I can't stress enough the importance of having insurance.
Not all insurance companies will cover off grid properties, and not all structures can be insured. It's a good idea to check with your insurance provider before you buy a place. Recently, as of 2023, we've learned through experience that a lot of insurance companies have stopped writing new policies for regions that are at high risk for fire and other so-called natural disasters.
Each person has to decide what level of risk is acceptable to them and live with that. I realize that one day insurance may not be an option for us out here but, while it is, we'll have it.
The happy ending to our story is that, after grieving the loss of our "dream cabin", we found a home even better suited than the one we'd lost.
We were blessed to end up with more than twice the amount of land including flat, farmable land and John even got his workshop. Our well here has great water (albeit low quantity); there's also an existing septic system with, guess what? A flushing toilet.
What more could a girl want?
Changing Gears
Our plan to stay at our jobs and work on our off grid place on weekends didn't last long in 2020. Working from home was soon followed by Mandates for Federal employees, including contractors, of which I was one.
Oh, well. There went my job.
John's company was bound to follow suit so, rather than be pushed out, he jumped ship in June "retiring early". While our budget for improvements certainly shrank, our time to do the work ourselves increased significantly.
And here we are.
---
I hope this info has been helpful to anyone who's considering buying off grid property. Like I mentioned, this post is almost 3 years old and we've made so many improvements on our property since 2020.
While we spent the first couple years completing those invisible (and usually expensive) projects that make everything work, last year we got to start focusing on the fun stuff that makes the place look and feel like a home. Our home.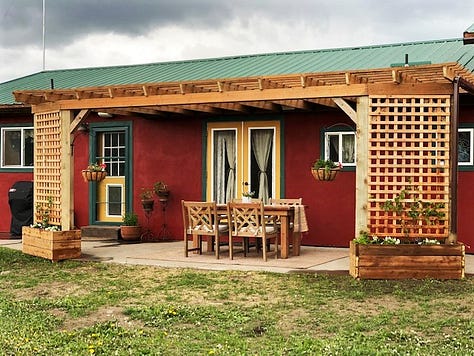 Back in 2020, off grid properties were selling as fast as we could spot them. Interest rates were their lowest and Covid sent many people running for the hills. Today, with interest rates so much higher, things have inevitably slowed but there are more properties on the market and less competition to buy them.
Of course, things in the world continue to get weirder so there will always be people like us who pay attention and are looking to put as much distance as possible between themselves and everyone else.
Keep in mind that Off grid is a niche market. Most people who are interested in living off grid don't have a lot of money to buy property; those people who do have a lot of money to buy property don't usually want to live off grid.
Like I said, niche.
If you're in that sweet spot where you have some money to spend and also the desire to live way out, you're an odd bird. But you're my kind of odd bird, and I hope this info helps you. Always, if you have any questions about our experience, ask away in the comment section. We're here to help if we can.
Meanwhile, if you plan to stay where you are while investing in a Bug-Out "just-in-case" location elsewhere, you might want to read this post: Bug-Out vs. All-In